My trip to Costa Rica assisted me in seeing more clearly that my dreams are possible and my prayers are being heard. Costa Rica iis a stunningly beautiful country with kind people. I had a great time meeting new people; learning more about their spiritual journey and learning more about myself in the process of interacting with them. Many parts of the trip gave me the feeling of being guided by the universe/God/my Higher Self/ etc.
Ever since I have been on the Reiki path, my life has felt guided by the universe; a sort of higher calling.
I'll share a few moments that felt like kisses from the universe: 1. The AIRBNB my retreat crew and I stayed in before traveling to Quepos was next door to a small butterfly garden. The butterfly garden was meditative. Additionally the garden included a short meditative nature path next to a running creek.
There were so many beautiful trees similar to this one. I wanted to hug and kiss on them all!
A butterfly landed on me and I was fortunate enough to snap a picture.
2. The home we stayed in while in Quepos had a few bushels of one of my favorite plants, Persian Shield. I wa so happy to see them when we arrived at the home! A few days before I went on the retreat I had to throw mine away because it had died. I look forward to growing more of them when Spring comes to Chicago.
3. The home was also a short walk from a beautiful waterfall. I was able to visit the waterfall under the light of a Full Moon with a beloved friend and one of our fellow retreat members. The next day we visited the waterfall during daylight. We were able to dip in the wading pool naked which was nice!
4. It was Mercury Retrograde during my trip and I hit a stressful snag. The day before I was set to fly out my retreat guide, Kamean/Kemetic Yogi, left to accompany other attendees to the main town so they could board a bus to the capital. When he didn't come back hours later we began to grow concerned. We hadn't heard anything about how I was getting to the airport and I was the only one who needed to get to the airport. By nightfall we were worried. My beloved friend, who is an Capriquarius (someone born on the cusp of Capricorn and Aquarius), came up with a great strategy and figured out a way to get me a ride to the airport on time. I arrived to the main town later than I had intended but figured I had PLENTY of time to take a bus from Quepos to San Jose (the capital of Costa Rica). The bus I was hoping for wasn't running that day. I started to stress I wouldn't make my return flight to Chicago. I saw a bus pull up with this message:
"Dios ilumina mi camino"/ God illuminates my path!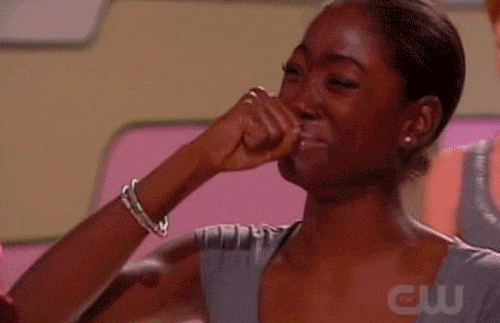 This helped to calm me. I wish I could say I had a leisurely ride to San Jose. I cycled between mindfulness/ focusing on the natural beauty gracing my eyes and stressing/worrying that I wouldn't make my flight. I'm happy to report I made it to the airport 20 minutes before my flight and had enough time to stop by a gift shop to buy my beloved Britt Chocolate! As I was taking my place in line to board my plane I ran into one of my fellow retreat attendees! He is a lovely LIbra man and was a great addition to the retreat experience.
It's funny I had such an expansive, abundant experience and locked myself into limitation upon coming home.
Around 10 days before Thanksgiving I went on a date with a charismatic Sagittarius. She is a foodie so I decided to choose my favorite Thai restaurants. We had discussed dinner, karaoke, and potentially talking at my place afterward. She sent me a text earlier in the evening asking if I minded going to a burlesque show. Heck no I didn't mind! The burlesque show was super inspiring and something I didn't even know I needed. I made plans to look into the dance classes offered by Vaudezilla. Long story short things got really intense with her super fast. I received a few confirmatory messages from The Universe/God/My Higher Self. Things felt really good in the beginning. Then I lied about something pretty big. She gave me another chance. Things weren't the same and I should have taken the opportunity to end things then. We gave it a little over two weeks after that. There were some beautiful moments, stressful moments, confusing moments, angering moments, etc I resolve everything back to love and give thanks to the growth that occurred during this moment of my life adventure. I hold no ill will towards G. and genuinely wish her the best in life. We just weren't a compatible match. She taught me a lot and I am glad she is doing what's best for herself as I am too! Looking back I see that I was willing to constrict myself just to get a FEW of my needs met. I also realize I played a part in my needs not being met. It's been my pattern to not advocate for my needs and try to adapt my expectations to whatever I am being given vs honoring my needs/asking for my needs to be met. Along with not communicating my needs I was willing to constrict myself by: 1. Pushing so hard to be on the road to a "relationship" and doing a lot of the work a relationship entails not even a good month into dating someone….. 2. Considering a monogamous relationship with someone I've known less than a month when I very much identify as a solo polyamorous woman….. 3. Often saying yes to what she wanted and needed often ignoring my own wants and needs…. I had to laugh at myself one night while riding home from the train station. I literally thought, "You are such a free spirit! You don't even want a 9-5 job so why were you trying so hard for this monogamous set-up? Girl!!"
I'd be lying if I said this "breakup" has been all rosy. I had my cathartic cry in the shower, "I deserve to have an aligned and compatible relationship! I deserve the best!" I cried this week while lotioning myself before work. I had my feel good music on but my Higher Self knew I needed to feel something that wasn't so pleasant. It wasn't easy admitting to myself I was sort of talking myself into a relationship just to feel like I had achieved something. Seeing a relationship as some sort of ultimate accomplishment belittled so many other aspects of my life and made a mockery of all the self-love work I've been doing. Loving myself means saying yes to expansion and for me expansion in relationships includes feeling free. Monogamy, at this stage of my life, doesn't feel free for me. Freedom also means having the time and space to focus on my own self-care and development work. I often said no to my own self-care in order to be in her company. I made the choice consciously and I told myself I could get to my things later. I believe that all things happen for a reason. I had been telling the woman I used to see about this Wild Side Pole Show that serendipitously showed up on my Facebook feed. I wanted us to go together. Well, she never got her ticket. I ended up going with a beloved friend and we left feeling SO inspired! We ended up signing up for pole dancing classes with the school mentioned during the show. It makes sense I saw the show with this particular friend because we both believe so strongly in women owning their sensuality and sexuality. For me it was inspiring to see women own their sensuality and sexuality AND be celebrated for it. In my short-lived dating life with the woman I was seeing, at some points I perceived attempts to shame me for my sexual expression. It's pretty easy for me to embrace my sexuality but like anyone else I acknowledge I have some growing to do. I'm looking forward to going deeper with myself which in turn allows me to go deeper in many areas of my life. I'm looking forward to going deeper with my relationship with money, friends, family, my business, lovers, my spiritual practice, and LIFE!
Diving deep into the journey of self-discovery helps us discover our desires, the places we need to grow, our limiting beliefs, etc. and all of this leads to expansion. We are expressions of God/The Universe in human meat suits. Our desires, passions, dreams, etc. were not given to us by accident. We are here to expand and lead expansive lives. What are you saying yes to?! As I was searching for a final picture for this post to sum up where I'm at, this was the first photo to come up in my Instragram feed.
How did this resonate with you?
I want to give a shout-out to lovely souls who helped inspire this post: Rebecca Ives Rubin India Ame'ye Genevieve Rackham A few Abraham Hicks vids: Break Ups, How to Create Your Future , Attracting a Partner Marina Mars, a performer at The Wild Side Pole Show
Healing Music: 432 HZ Self Love & 639 HZ Healing Relationships